Trump wants the SEC to explore extending financial reporting deadlines from 3 months to 6. Why this is exactly the wrong direction for government to go:
https://t.co/dVQkfEej30
Twitter feed video.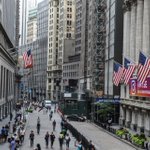 A New York-based developer is offering to acquire Chinese conglomerate HNA's building near Trump Tower for $452 million, after the U.S government ordered the company to sell it https://t.co/9LilMUhc8Y
A photographic tour of the new Four Seasons restaurant in New York:
https://t.co/mvLeHHadQw
Load More...